This article will tell you everything you need to know about signing up for and successfully getting to your virtual interview with YES. There are three parts to this process: scheduling your YES interview, confirming your interview, and joining the call.
Scheduling your YES interview
If you've already scheduled a virtual interview and have received a confirmation email, you can go ahead and skip to the next section. If you haven't scheduled it yet, or aren't 100% sure either way, read on!
The first opportunity you have to schedule your interview is within the YES application itself. You'll find it on the final page of the application form: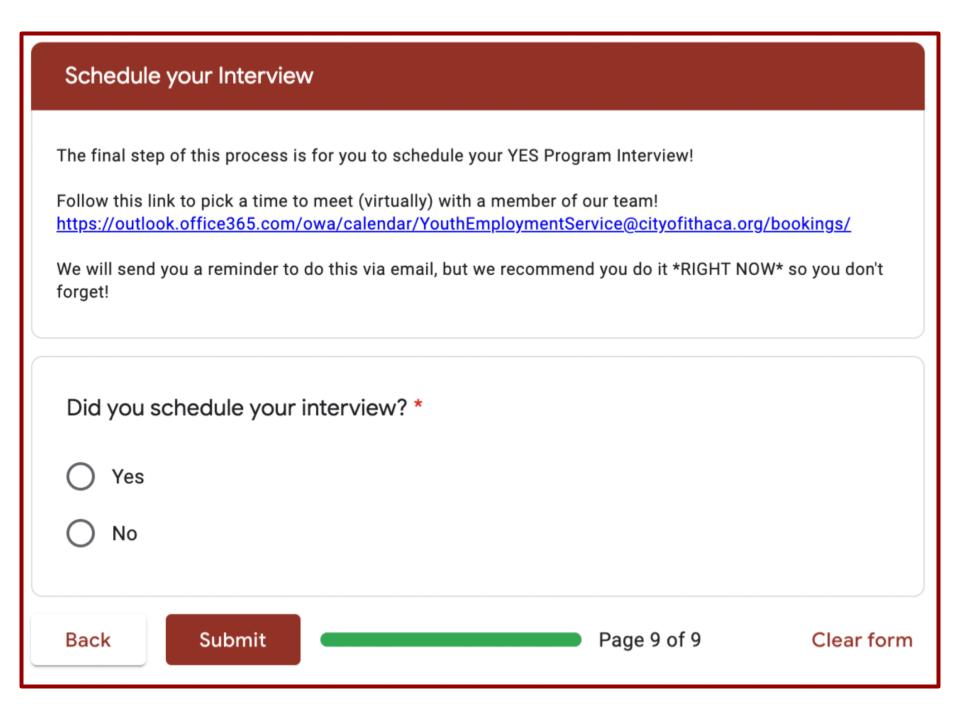 After you schedule your interview, don't forget to go back to the application and hit submit! This is extra important to remember if you're using your phone to apply, as the interview link will open in a new window.
If you already submitted your YES application but didn't schedule the interview, don't worry. You can also do it right from this link: https://outlook.office365.com/owa/calendar/YouthEmploymentService@cityofithaca.org/bookings/
The first thing you'll see when you follow that link will be the "select a service" screen. Click on the option "YES Program Interview (virtual/afterschool)."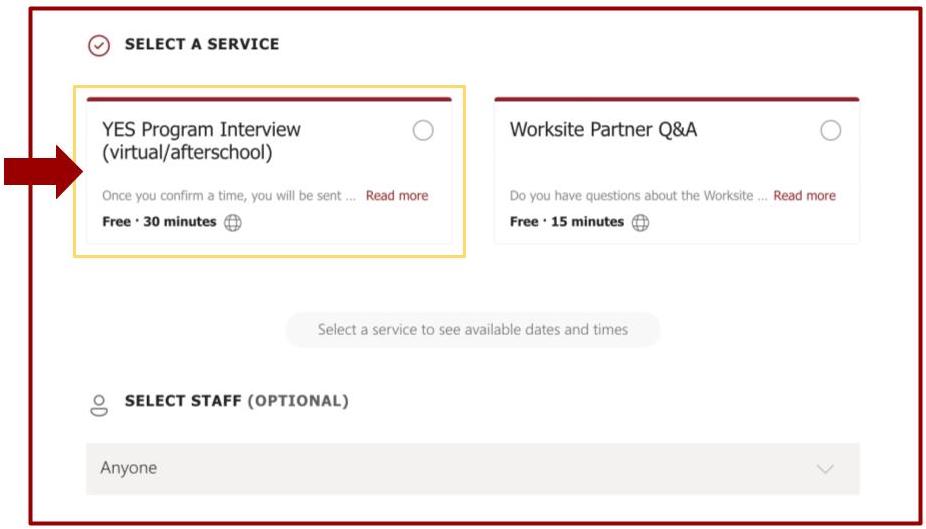 Scroll down to select a date and time that works for you and provide your contact information. Make sure to provide an email address that you check regularly! That's where YES will send your booking details and how we'll contact you if your interview needs to be rescheduled.
Once you've entered all your info and booked your appointment, you should see a confirmation screen: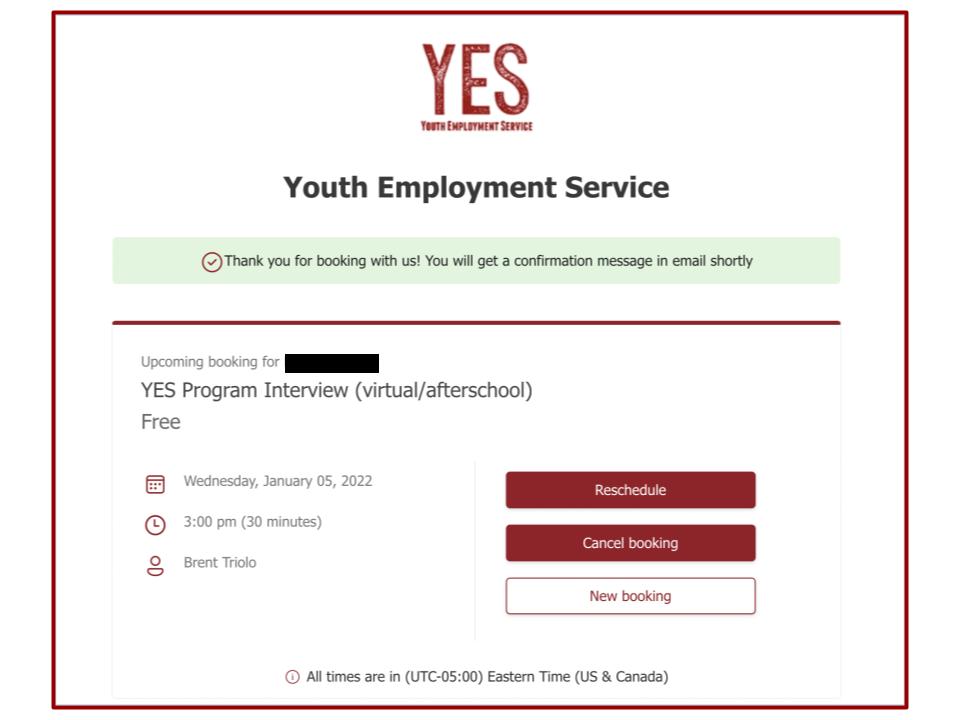 Review the details and make sure they're right. If everything looks good, you're all set! If not, click "reschedule" and make changes as needed.
Confirming your interview
You should receive two confirmation emails from YES within a few minutes of scheduling your interview. The first will contain links for joining the meeting. The second will contain your appointment details and a "join your appointment" button. Either option (link or button) should allow you to join just fine.
If you don't receive a confirmation, call the YES office (607-273-1849) or email yes@yesithaca.org If you selected a specific YES rep to interview you and you know their email, you can also reach out to them directly.
You'll also receive another reminder email 24 hours before the interview.
Joining the call
You might have noticed that your interview invitation was sent via Microsoft Teams. Teams is the video platform we use for virtual interviews, but you don't need a Microsoft account to join the call.
When you click to join the call, Microsoft Teams will open in a new tab. It should automatically default to the browser option and allow you to join the meeting as a guest, but if it gives you the choice between continuing on your browser or downloading Teams, select "Continue on this browser."
Next, you'll have a chance to preview your video setup and make sure your mic is good to go. Since you're joining as a guest, you'll need to enter a name—just your first name is fine!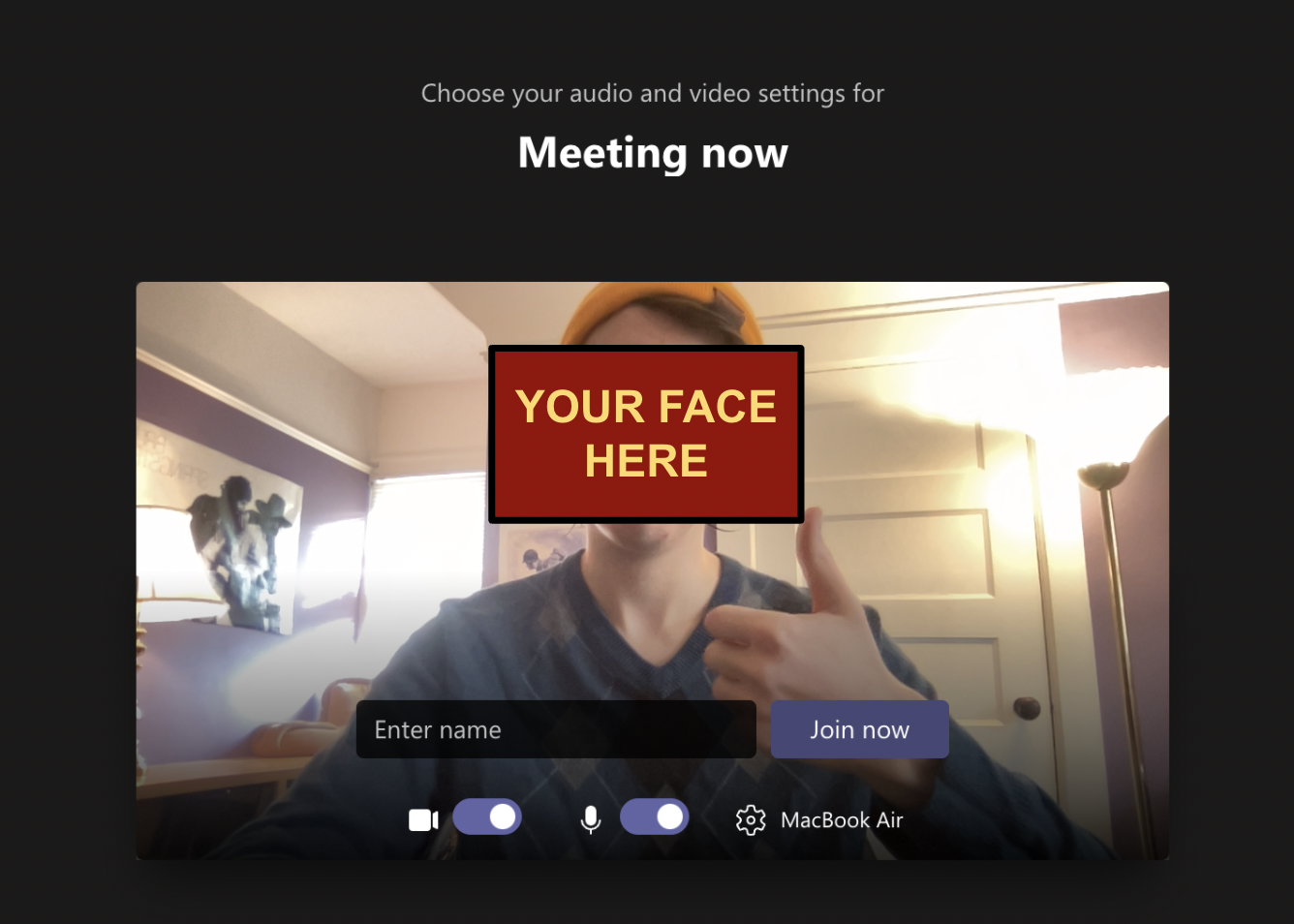 Once you've done all that, go ahead and click "join now." Congrats, you're in! Good luck with your interview!