If you've received a job offer letter from YES, you'll have noticed that in addition to your YES orientation session, you've also been assigned to a "kickstart training." The kickstart is an additional session of training you'll complete with the YES staff prior to the first day of your summer job.
YES Kickstart Training vs YES Orientation
While the orientation session and kickstart training might sound the same, these are separate events, and it's important that you attend both before you start working this summer. Here's a breakdown to help you understand the differences between these sessions: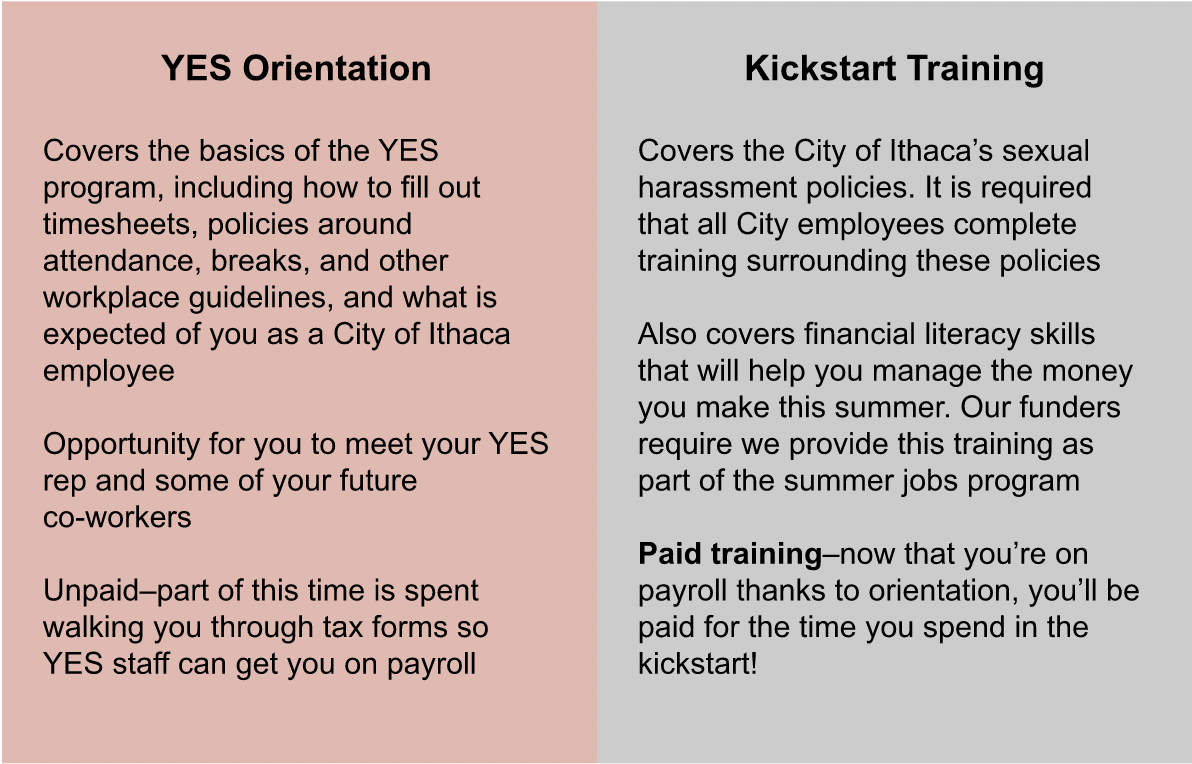 As you can see, these two sessions each cover necessary, but different, information. Additionally, one of the most exciting things about the kickstart training is that you'll be paid to be there. Remember, though, that the YES staff can't get you on payroll unless you complete your tax forms at orientation, which is part of why it's important that you make a plan to attend both orientation and your kickstart.
What if I can't make it to the training?
If you can't make it to the training assigned on your job offer letter, fear not! There are a number of other training dates available. Call the YES office at (607) 273-1849 as soon as you can–we will work with you to find another date that fits your schedule! The sooner you call, the more flexibility we'll have to find the best makeup day for you.
What happens if I can't make it to any of the available training dates?
If you're unable to attend any kickstart training, the YES staff will help you to find an alternative solution. Most likely, we'll have you complete an online version of the training materials. We'd prefer to have you join us in person, of course, but we understand that's not possible for everyone.
Although this virtual training option is more flexible than an in-person session at a specific time, you'll still need to make a plan to complete the online modules before your first day on the job. You shouldn't start work without some knowledge of this important policy information!